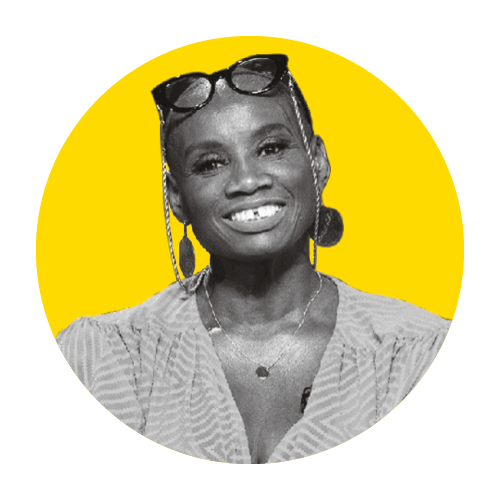 Andi Oliver
TV chef and broadcaster Andi Oliver is a regular face on screen. She's the host of the BBC's Great British Menu, Sky Arts Live Book Club, Channel 4's Beat the Chef and Food Unwrapped, and a contributing chef and host on BBC's Saturday Kitchen. Andi is also a regular panel member on Radio 4's The Kitchen Cabinet alongside Jay Rayner, as well as a contributor to Radio 4's The Food Programme. In 2018 she followed in the footsteps of Yotam Ottolenghi and Giorgio Locatelli as head judge, alongside Sheila Dillon, for BBC Food and Farming Awards. Outside the realm of food, Andi hosted Jazz 365 for BBC4 in 2019 and, along with her daughter Miquita Oliver, took part in The Road To Saigon for BBC2 and hosted the Cheltenham Literature Festival for Sky Arts.

Andi rose to fame fronting the band Rip Rig + Panic with Neneh Cherry in the early 1980s, and went on to work in TV through the 1990s, debuting on Backstage at The Brits. She then presented the hit cult show Badass TV with Ice-T, and documentary Crazy Sexy Cool. For six years Andi covered Glastonbury for the BBC as well as various other BBC festivals. During this period, Andi hosted a hugely popular afternoon show on GLR for three years and presented The Selector, a show for The British Council, for eight years. In 2005, with Andi at the helm, it won a Silver Sony Award for best weekly music show.

In 2006 she presented The Truth About Food for the BBC and, in 2007, Andi and Neneh Cherry hosted BBC2 cooking series, Neneh and Andi Dish It Up.

Andi was (and is) in the kitchen throughout all of this, perfecting her skill. For four years she ran a successful restaurant — The Moveable Feast. Then, after a stint as creative director of The Birdcage, she launched her own kitchen at The Jackdaw and Star, a renovated pub in the heart of Homerton. She opened her restaurant, Andi's, in 2016 and, in 2020, she launched her latest food project, Wadadli Kitchen, which showcases real Caribbean home cooking. Wadadli pop-ups took place throughout summer 2021, along with an offshoot of the Wadadli brand called One Love, which Andi created alongside Fred Sirieix.