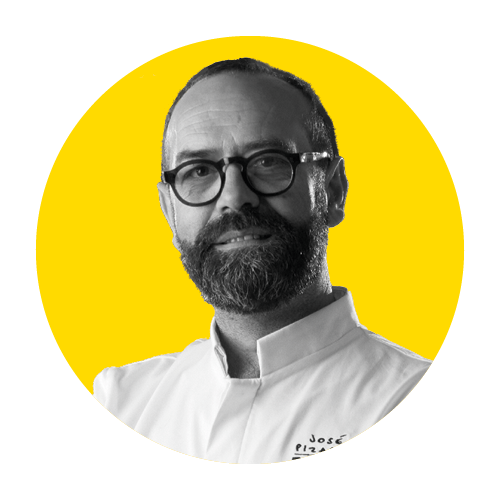 José Pizarro
Originally from the village of Talaván in Cáceres, Extremadura, José has lived in London for more than 20 years and is often described as the godfather of Spanish cooking in the UK. He spent his early years training in top restaurants in Spain and, after moving to the UK, worked at some of London's most prestigious Spanish restaurants including Eyre Brothers, Brindisa and Gaudi. In 2011, José opened his first solo venture, José Tapas Bar on Bermondsey Street. His next restaurant was Pizarro, also on Bermondsey Street, which went on to pick up numerous accolades including World Food Awards Restaurant of the Year and Best Mediterranean Establishment at The Food Awards London. José subsequently opened two more restaurants in the capital — José Pizarro at Broadgate Circle and pop-up restaurant Little José in Canary Wharf. His next venture was The Swan Inn in Esher and in August 2021, José opened two restaurants at the Royal Academy of Arts in collaboration with its longstanding creative catering and hospitality partner, Company of Cooks.
José's has written five books — Seasonal Spanish Food (2009), Spanish Flavours (2012), Basque (2016), Catalonia (2017) and Andalusia (2019) — and his sixth, The Spanish Home Kitchen, launches this spring. José is also a regular on TV, appearing on shows such as Saturday Kitchen, Sunday Brunch, The Big Eat and James Martin's Saturday Morning.
This year, José embarks on perhaps his greatest adventure yet: the opening of Iris Zahara, a spectacular guesthouse in Zahara de Los Atunes in southern Spain. This exclusive seaside property will host just 10 guests at a time who'll join José and his partner Peter for unique food and travel experiences, from private wine and sherry trips to culinary tours and exclusive cookery experiences with José.